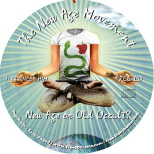 About This Tract-

This is an outreach and apologetic CD Tract for not only the believer but anyone involved with the "New Age".

It's my prayer that Christians will become better equipped to readily give a defense to defend the Christian faith rightly dividing truth from error. This is the first of a new series of outreach/apologetic CD tracts.

Background:

The New Age Movement (NAM) is both a religious and a social movement. In fact, Western culture is currently experiencing a phenomenal, spiritual, ideological, and sociological shift. It is a religious world view that is alien and hostile to Christianity. It's a multi-focused, multi-faceted synthesis, in varying degrees, of the Far Eastern, mystical religions, mainly Hinduism, Buddhism, Taoism, and Western Occultism, adapted to and influenced by Western, materialistic culture. It sometimes appears in secularized forms.

The New Age Movement consists of an incredibly huge and well organized network consisting of thousands of groups, trusts, foundations, clubs, lodges, and religious groups whose goal and purpose is to prepare the world to enter the coming "Age Of Aquarius."



The New Age movement is not a unified, traditional cult system of beliefs and practices, even though its roots derive from Eastern religions and the occult. It has no official leader, headquarters, nor membership list, but instead is a network of groups working toward specific goals. One of its main goals is to bring to the forefront a one-world leader who is called "The Christ" or "Maitreya." Nevertheless, it is estimated that there are millions of worldwide followers of various New Age practices and/or holders of one or more of the major beliefs of the New Age.

Bottom line: The term "New Age" is an informal term derived from astrology, which indicates that this earth, if not the cosmos, is on the verge of an evolutionary transition from the Piscean Age (rationality) to the Aquarian Age of spirituality, bliss, and harmony of all things. Even though it is undergoing a significant revival, the "New Age" is hardly new. In fact, it is very old. A better term would be the "Old Occult. "

WARNING FOR PARENTS......THE SCHOOLS ARE INTRODUCING NEW AGE PRACTICES...BEWARE!
Jim and Shirley Mae Fry
Jun 23, 2007

Dear ones.......below is a site to click or paste into your browser. ALL those who have children or grandchildren need to read this message and hear this alert.

Remember, satan as a ROARING LION, seeks to devour men, women and children.......satan's work on earth is to kill, steal and destroy......and the dark force is busy coming into the midst of The Church, trying to move "off path" those who are IN Christ Jesus......

.....and right now we see the children becoming satan's primary target.......satan for the most part has the adults in this world eating at his table, delicacies pleasant to the eye, but when taken into the body, in time, will cause eternal separation from God, sealing their eternal destiny in hell.

http://prophecyplus.blogspot.com/2007/06/children-and-meditation.html


Download All Tracks & Label - Life Belt - .ZIP file

All Tracks & Label

Label Design Only

Request Free CD Tract - Here